RM0.00
High-speed bench-top centrifuge for hematocrit determinations with brushless frequency drive. At 16.060 g sedimentation is completed in just a little over 6 minutes.
The HC-240 centrifuge includes a segmented hematocrit rotor for 24 capillaries. With the segmented hematocrit rotor every capillary has its own chamber. If a capillary breaks, the fragments stay in this chamber or segment without affecting other capillaries.
The lid of the rotor is evaluation disc and cover in one.
The hematocrit value can be read off the lid/evaluation disc right after centrifugation.
Controls and displays
During centrifugation the actual values of the parameters are indicated
The centrifuge's speed and running time can be variably adjusted for different applications.
Speed display in RPM or RCF
RPM input from 200 to 10.000 in steps of 10, starting from 10.000 to the maximum speed in steps of 100
RCF input from 200 to 10.000 in steps of 1, starting from 10.000 to the maximum speed in steps of 10
Time t/min: 1 – 99 min. in steps of 1 min.,
Time t/sec: 1 – 59 sec. in steps of 1 sec.,
Continuous operation
Brake stage, selectable between fast and slow
Pulse key: For short centrifugation operations
Open lid key
Safety
Lid locking and holding device
Emergency lid lock release
Lid closure of metal
Imbalance switch-off
Flexible motor bearings
Deep metal rotor chamber (die-cast-aluminium) to securely accomodate the rotor
Design
Smooth plastic housing, easy to clean
Metal lid
Deep metal rotor chamber
Description

Additional information
Description
The HC-240 conforms to safety regulations such as IEC 61010, or the CE mark and all relevant EC standards and DIN norms and has been manufactured under ISO 9001:2008
| | |
| --- | --- |
| Technical details | |
| Max RPM (speed) / RCF: | 13.000 rpm / 16.060 RCF |
| Noise level: | ?57 dB(A) |
| Dimensions in mm (HxWxD): | 228 x 262 x 352 |
| Net weight: | approx 10 kg |
| Emission / Immunity: | EN / IEC 61326-1, class B / FCC class B |
| | |
| --- | --- |
| Code | Description |
| BOE 01801-13 | BOECO centrifuge HC-240, 208-240V, 50/60 Hz, with hematocrit rotor and lid as evaluation disc |
| BOE 01801-12 | BOECO centrifuge HC-240, 100-127V, 50/60 Hz, with hematocrit rotor and lid as evaluation disc |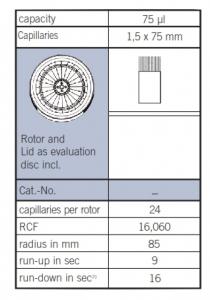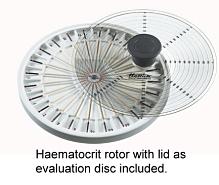 Additional information
| | |
| --- | --- |
| Weight | 50 g, 2 kg, 5 kg, 10 kg |